EXHIBITION
HOME > EXHIBITION> Outdoor Exhibits
Outdoor Exhibits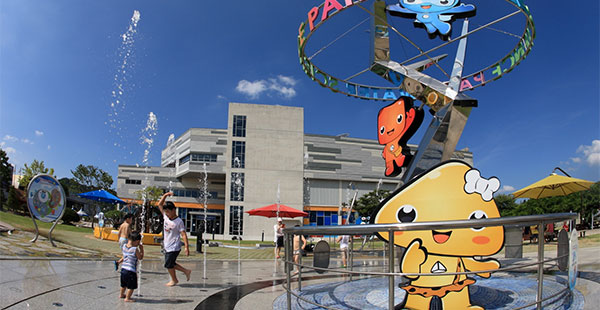 museum or to better support the conceptual idea of the exhibit. Visitors can roughly enjoy three sections of the exhibition, the historical square, the history of the maglev train and the national defense science exhibition.
Main Exhibitions
1. Outdoor Science Playground

The outdoor exhibit is connected to the water science experience park exhibitions where you can have access to outdoor science experience exhibits. There are science games and resting facilities in place for young children to elementary students.

2. History Square

The history square is located in front of the science museum and through games using the principles of water allow for the learning of science principles at the water science park. The outdoor square displays our nation's excellent science technology artifacts and allows for its enjoyment while taking a rest.

3. Maglev Train History Hall

KOMAG-01 : Developed in 1990 by the Korean Electric Research Institution as the first maglev train
HML-03 : Maglev train operated in the EXPO exhibtion of 1993 in Daejeon
UTM-01 : Maglev train test operated since 1997 at Korea's Machine Research Institution

4. National Defense Science Exhibitions

Equipments to promote a new sense of the national defense equipment and raise awareness to its security that were used by the national army such as F-86F, F-5A, tanks, 8-inch self-propelled gun and the ceasefire line's underground probe that was donated by KAIST professor, Jung-Woong Na, are displayed.

5. Meteorological Observations Exhibitions

This portable weather radar, provided for free by the WMO(World Meteorological Organization) and UNDP(United Nations Development Programme), is the latest equipment for observation and signal processing through computers for weather research related works in our country. It has been installed in Seogwipo since 1987 for weather analysis in the Jeju area.

6. Space Science Park

The theme park has been created so that visitors can construct and connect a storyline of the past, present and future of space science and is a place where they can extend their imagination in regards to space.