EXHIBITION
HOME > EXHIBITION> Science & Technology Hall> Life-Cycle Experience Hall
Life-Cycle Experience Hall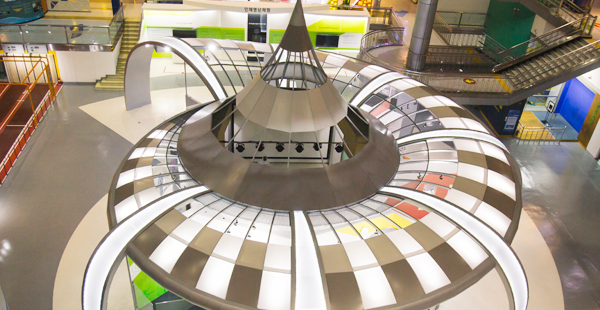 Located on the basement level of the Science and Technology Hall, the new exhibition primarily focuses on 'Human Body and Robots' and 'Sport Science.' The exhibition space applies the concept of 'space within space' to construct symbolic structures and another 'Human Body and Robots' section within that exhibit.
Main Exhibitions
1. Symbolic Sculptures

The Fibonacci concept within the principles of man and nature were excavated and applied to this symbolic structure. The sculpture, made in the form of a snail where you can see the principles at work, is a harmony of man science and nature.

2. The Human Body and Robots

Located within the space of the symbolic structures exhibit, this exhibit anatomically compares humans and robots and to better understand this concept, this section provides robot plays and performances for a more enjoyable experience.

3. Sport Science

Sport Science is a fun learning experience using virtual reality and other high-tech science technologies to perform sports like baseball, paragliding, cycling, running and more through the fusion of science technology and sports.

4. Human Anatomy Video Experience

The Human Anatomy Video Experience is a Korean virtual human anatomy data display that allows you to easily understand the human anatomy, study virtual dissections and endoscopy through virtual reality and high-tech science technologies.