EXHIBITION
HOME > EXHIBITION> Science Alive Discovery Center> Exhibition Guide
Exhibition Guide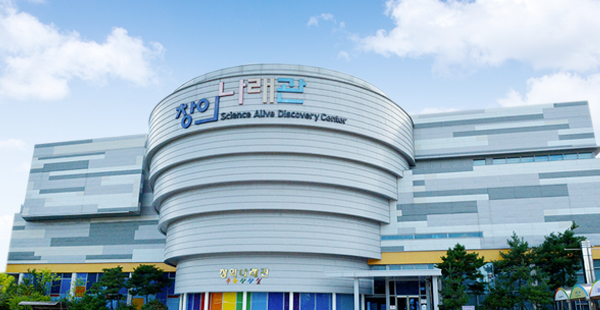 The Science Alive Discovery Center is a space for creative experience that inspire interest and curiosity by introducing theme parks and performances that put emphasis on the mutual interaction with its visitors. With the visitors being the central focus, they are able to understand the principles of science and develop their creativity and imagination through high-tech scientific equipments and instruments.It is a fun science experience center for the growing youth, and a place where families can enjoy their time.
The center also implemented a 'Show and Talk' information guide system to enhance the visitor's experience and maximize their creativity. A guide is placed in every exhibit and provides information in a 'Show and Talk' system using plays and shows, rather than a formal explanation.
Hours
| division | Part 1 | Part 2 | Part 3 |
| --- | --- | --- | --- |
| Time | 09:00 ~ 12:00 | 13:00 ~ 15:00 | 15:30 ~ 17:30 |
| Number of People | 350 | 300 | 300 |
Drone Experience Program Guide
Through the cutting-edge ICT technology's complex drone, the drone experience program is operated to promote interest in science and provide opportunities to experience cutting-edge science technology. Those intersted are encouraged to participate.
Program Outline

History, principles and basic education of the drone
Control and flight experience

Experience Fare: Free (Unless stated otherwise)
Experience Time : 25 minutes
Experience Persons Limit : 24 people / session
Main Exhibitions
1. Electricity Show

Experience and observe how Tesla coils, a Jacob's ladder and a Van de Graaf are used to conduct an electrical lightning experiment.

2. Laser Show

A demonstration of popping balloons and quickly clearing laser tunnels.

3. Drone Show

Enjoy the fantastic musically synchronized choreography of seven drones.

4. Video Mapping Experience

Experience animal and nature themed videos feature four types of animals: larvae, chameleons, fish and frogs on a large scale white sculpture. Watch as experimenters touch the sculpture to prove a digital reaction from the animals.

5. VR Secret Room

Explore a secret room while holding a torch and escape a dark virtual reality space using a HMD(Head Mounted Display) and safety gear.

6. Cat Rescue

Using a HMD(Head Mounted Display), rescue a stranded cat on top of an urban skyscraper.

7. Augmented Reality

Experience the blur of reality and augmented reality in this raw interactive exhibition.

8. Motion Capture

Become the star of a movie as 9 motion sensors are used to capture your movement.

9. Virtual reality rider

Experience a virtual reality through a motion base and 4D effects.