EXHIBITION
HOME > EXHIBITION> Biosphere
Biosphere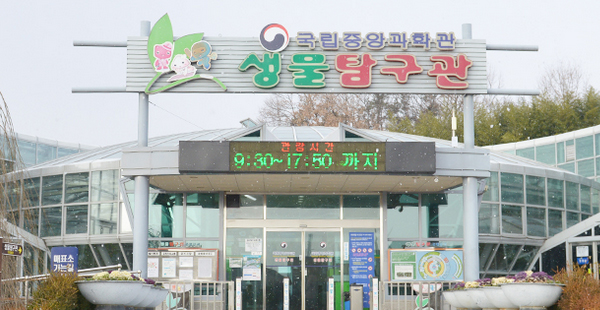 The Biosphere provides an observation of over 200 species of plants living in the Souther Coast of Korea. Enjoy a fun and restful learning experience with your family through an outdoor ecology learning center, a bamboo garden, a mud path and a dinosaur playground.
Hours
9:30am ~ 5:50pm
Biological Research Center Commentary Programs
Target : Elementary students and up
People : Within 1~20
Run Time : 20 minutes
Program Hours
Seission
Tuesday - Friday
(Train Departure Time)
Saturday - Sunday
(Train Departure Time)
1st
09:40(plants Commentary)
14:00(plants Commentary)
2st
10:20(plants Commentary)
15:00(plants Commentary)
3st
11:00(plants Commentary)
16:00(plants Commentary)
4st
14:00(plants Commentary)
5st
15:00(plants Commentary)
6st
16:00(plants Commentary)
7st
17:00(plants Commentary)
Main xhibitionn
1. Dwarf Plants

At the entrance, there are vines like stauntonia, hybrid broad-leaf olive, pepper and native plants like Jeju cymbidium orchids, Goering's cymbidium. You can also find trees like waxberry, camellia, irregular-steak newlitse, camphor, Japanese evergreens, and other ferns like evergreens, spleenwort, and bracken.

2. Wetland Life

Water plants are largely put into 4 categories, plants that grow out of the water at the edge of the lake, plants that grow underwater, plants that extend their leaves out of the water and plants that and plants that float above the water. These vascular plants are called hydrophytes. In this exhibit, there are various types of ferns and insectivorous plants.

3. Herbs

Holly osmanthus, Osmanthus fragrans var. aurantiacus, Sweet osmanthus, Daphne Kiusiana, Cinnamomum japonicum Siebold and other souther region herbs can be observed.

4. Cacti

Located on the second floor is the cactic exhibit. To help youth and visitors understand the types of cactic and to develop an interest in natural wildlife, a 80 year old Golden Barrel Cactus along with other 70 types of colorful cacti are on display.

5. Ecology Learning Center

Wildlife that grows in Korea like various wild flowers, tyrannosaurus and stegasaurus-like silicified wood, and 20 types of rock specimen are on displayed. There is also an insect themed photo zone and a playground with dinosaurs.